Thank you for all of your Halloween submissions, the issue was a big hit! We are running our Christmas issue sub window up until Midnight on December 16th .
We can't wait to read your fun, holiday season stories!
Please see full details below!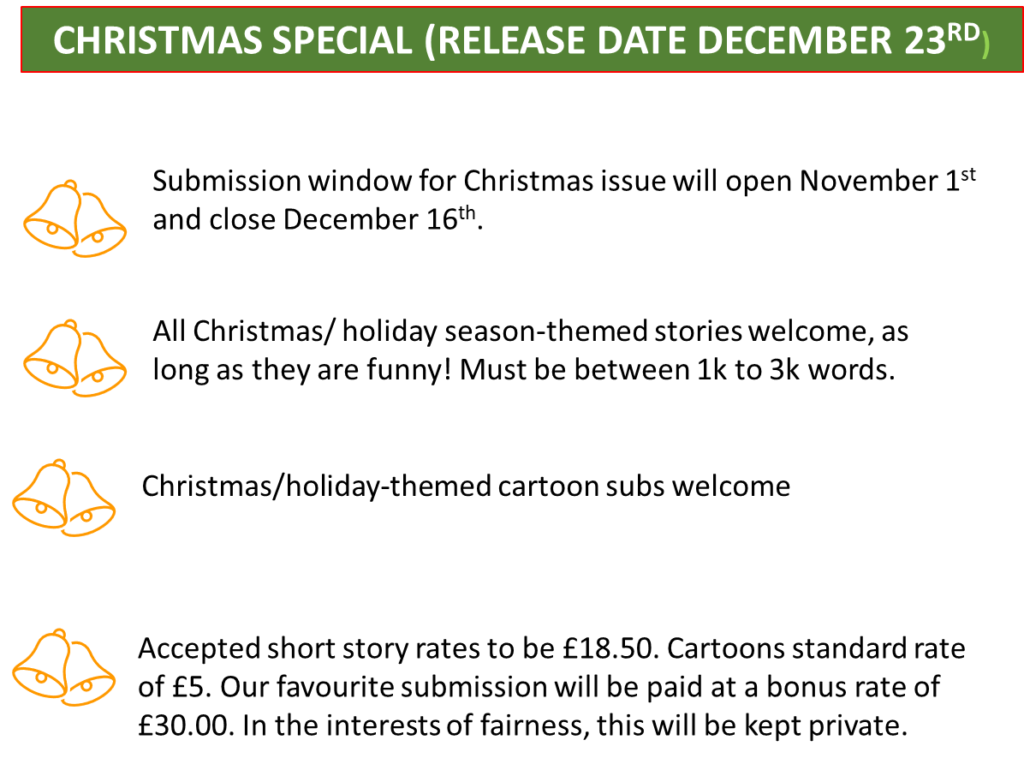 We are looking for stories between 1k-3k words in length. Please do not submit any works outside of this word range or poetry as they will not be considered or responded to. We will allow multiple/simultaneous submissions up to a maximum of two (please note this refers to stories submitted not emails).
Please send all submissions via a word or image attachment, along with a short bio.
The submission limit does not apply to cartoon subs.
We will pay £18.50 per accepted story submission and £5.00 per accepted cartoon. We will pay £30.00 for our favourite short story. In the interest of fairness, this will be kept private between Humour Me and the winning writer. All payments to be made via PayPal 48 hours before issue release at the latest and on the condition that the writer has responded to the acceptance email with confirmation that they wish to proceed.
Please note that we cannot guarantee feedback for rejected submissions and we will not respond to rejection follow up emails.
Please send all queries and submissions to:
humourmemag@outlook.com
GENERAL SUBMISSION RULES
We are happy to accept all types of humour, from sharp satire to slapstick. While humour is subjective, we will not tolerate any form of bigotry or discrimination toward any ethnicity, gender identity, sexuality or disability.
We will not accept re-submissions.
We cannot guarantee that we will respond to any submissions that do not adhere our submission requirements listed above.
We reserve the right to edit submissions for publication.